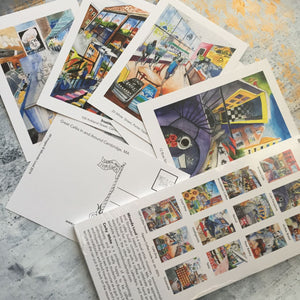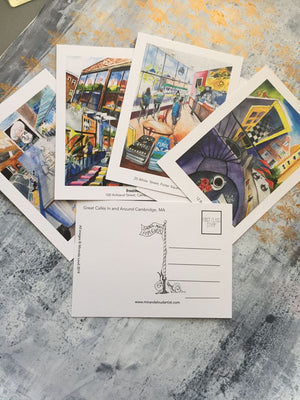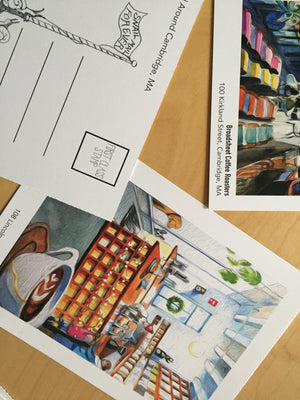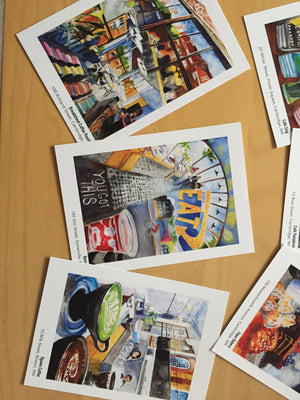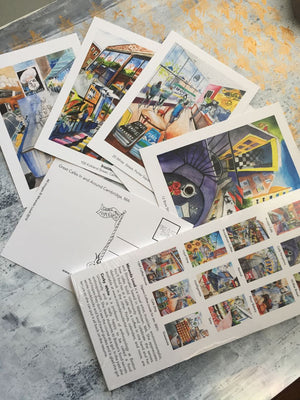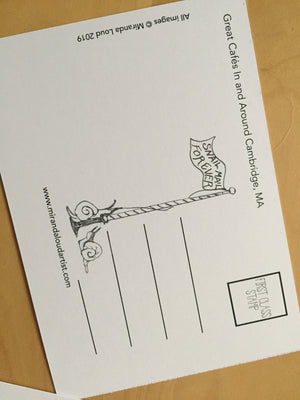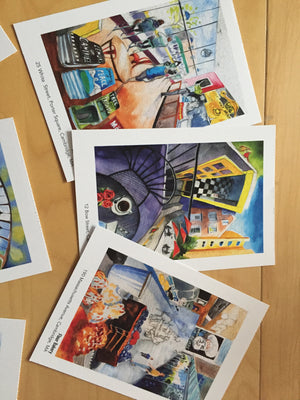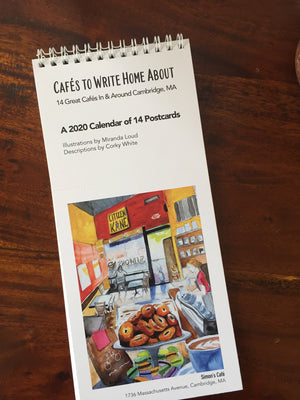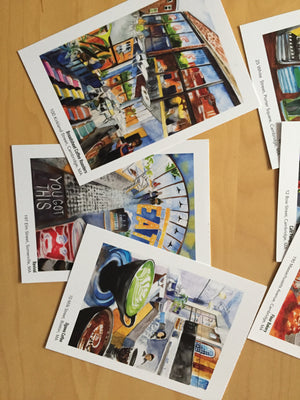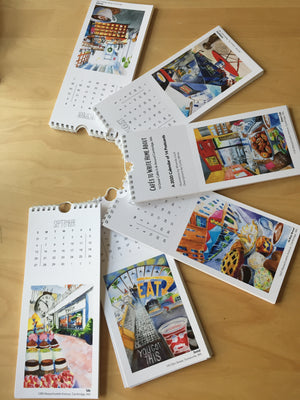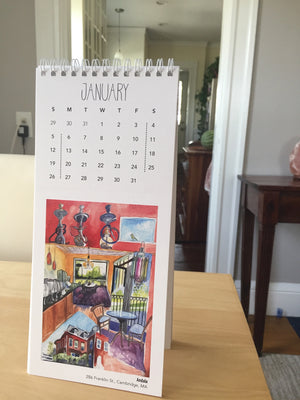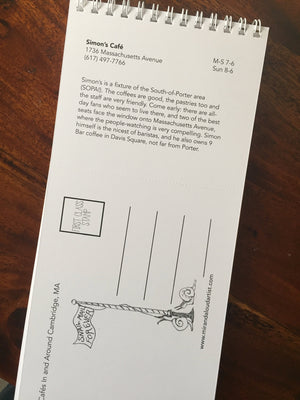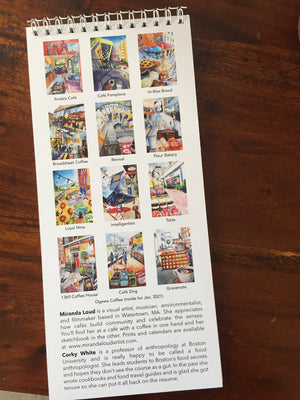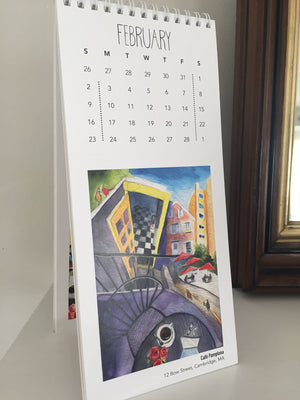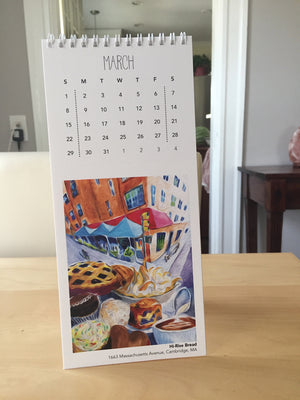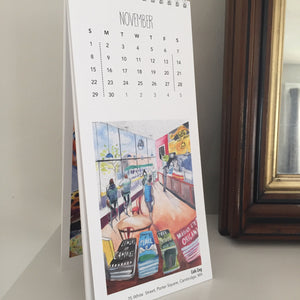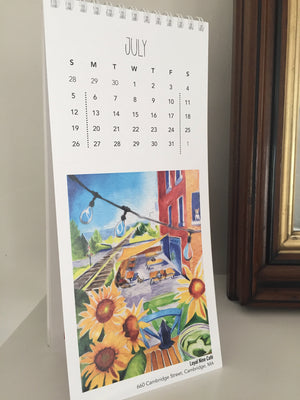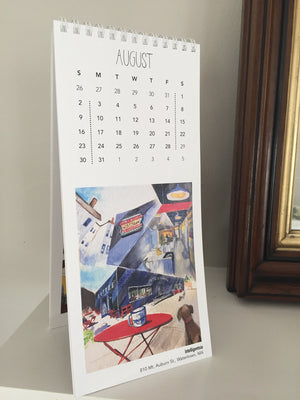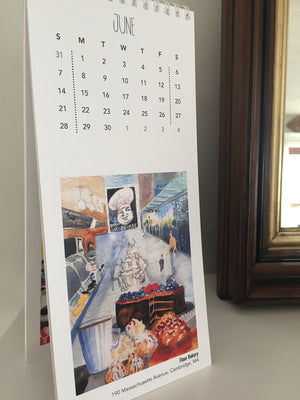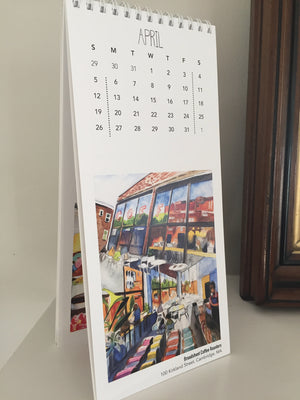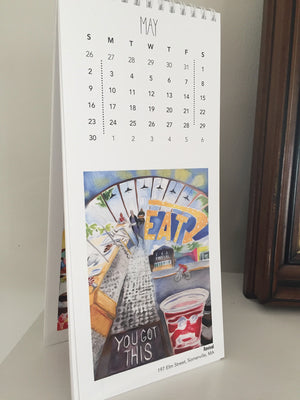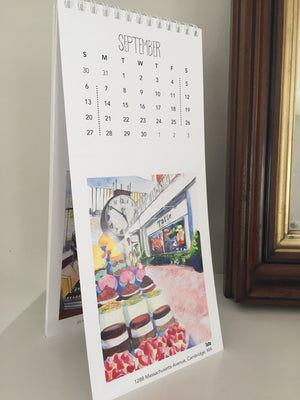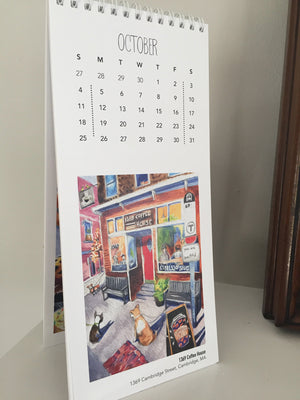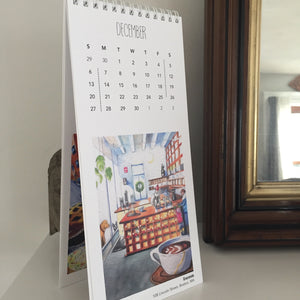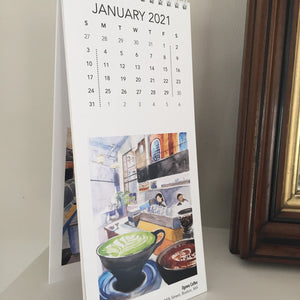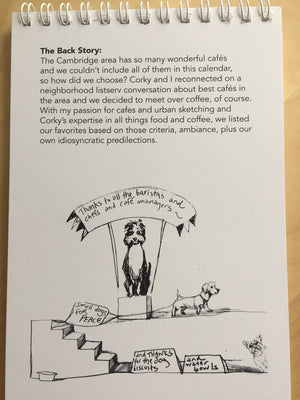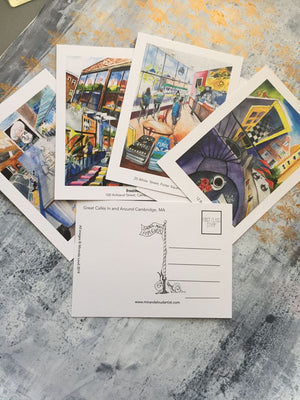 Cambridge Café Enthusiasts! 14 Postcard Collection: Cafés to Write Home About - 14 Great Cafés in and Around Cambridge, MA
The Café calendar featuring some of the Cambridge and Boston area's best cafes is now a postcard collection of 14 postcards which you can detach along the perforation in last year's calendar.
Limited availability. Get them before they are gone!
This was our calendar from last year and has 14 detachable postcards of Cambridge and Boston cafés. Café Pamplona has sadly closed, but remains a legend among café enthusiasts in Cambridge.
Illustrations/Paintings by Miranda Loud
Café Descriptions by Corky White
It's finally here! A celebration of café culture, snail mail, a perfect gift for students, coffee lovers, foodies, new arrivals to Cambridge and friends with a soft spot for cafés in the area. If you want prints of any of the cafes in the calendar, check out the archival 8x10 and 11x14 prints by cafe name in the search bar.  
Back Story: 
The Cambridge area has so many wonderful cafés and we couldn't include all of them in this calendar, so how did we choose? Corky and I reconnected on a neighborhood listserv conversation about best cafés in the area and we decided to meet over coffee, (of course). With my passion for cafés and urban sketching and Corky's expertise in all things food and coffee, we listed our favorites based on those criteria, ambiance, plus our own idiosyncratic predilections.
Cafés included: Simon's (Cambridge), Andala Café (Cambridge), Café Pamplona (Cambridge), Hi-Rise Bread (Cambridge), Broadsheet Coffee (Cambridge), Revival (Somerville), Flour Bakery, Loyal Nine (Cambridge), Intelligentsia (Watertown), Tatte (Cambridge), 1369 Coffee House(Cambridge), Café Zing (Somerville), Gracenote (Boston), Ogawa Coffee (Boston)
The 2020 Cafés to Write Home About - 14 Great Cafés in and Around Cambridge, MA (2020 Calendar of 14 postcards) will ship after Nov. 3.
Prints - You can expect to receive your prints within two weeks.
Framed prints - Please allow 3 weeks to receive your framed print (free shipping!)