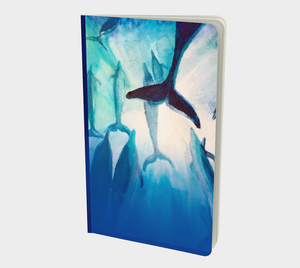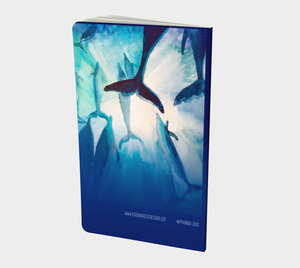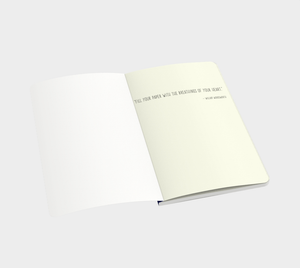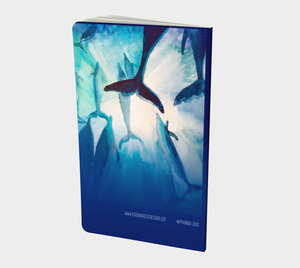 Dolphins Swimming Towards the Light Notebook 5"x 8.25"
From a watercolor by Miranda Loud, this journal makes a thoughtful gift for anyone who loves the sea. The opening quote is by William Wordsworth - "Fill your paper with the breathings of your heart."
Dolphins, like whales, used to live on land before moving and adapting to the oceans. When studying their fins, scientists have found that they are actually formed like legs and toes.  If you killed a dolphin during the time of Ancient Greece it was punishable by death. The Greeks called them "hieros ichthys" meaning sacred fish. Dolphins live in large complex societies of pods and give one another names. They develop their own individual whistles and even after the tone of the whistle is changed the dolphins still recognized theirs and other dolphins' names. Unlike us, dolphins have to remind themselves when to breathe; it's not an automatic response like it is for humans. They can drown if just one teaspoon of water gets into their lungs through their blowhole. There are myriad stories of dolphins rescuing people at sea.