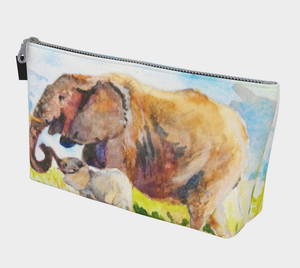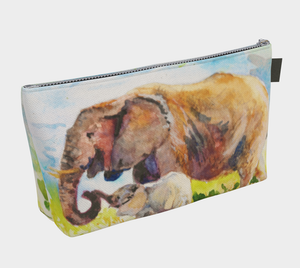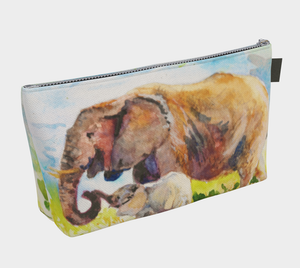 Elephant Love Cosmetics Bag/Clutch
The bond between a mother elephant and her child is something we share in common with the world's largest land mammal. Fairness, a sense of justice and complex emotions and culture make elephants one of the most miraculous species to have survived over millennia. These bags make wonderful gifts and can hold many things from makeup to pens, spare change, keepsakes. Denim lined zippered makeup bags featuring printed artwork. Made from durable canvas with ykk zipper and inner pocket, there's many ways you can use your printed makeup bag.

Features:

-Denim Lined: Indigo demin lining provides a soft structure for your carry-all.
-Vibrant printed canvas: 100% polyester textured canvas shell withstands everyday use while looking great.
-Inside Pocket- Inner pocket in denim help you stash your smaller items.
-Metal Zipper: Choose from long-lasting nickel or brass zippers to suit your artwork.
-Vegan Leather Pull Tab Side pull tab gives you extra grip on your carry-all.