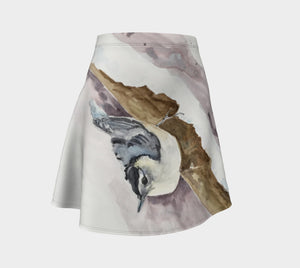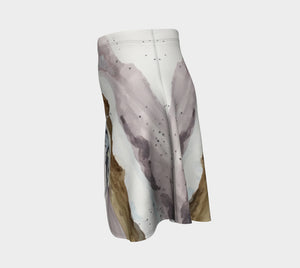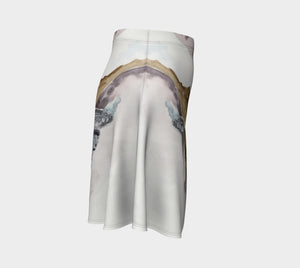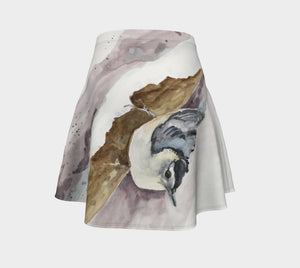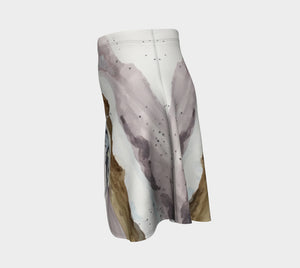 Nuthatch Skirt
Birds symbolize lightness and freedom. I remember this feeling when I was painting the nuthatch that spent much of day on the branch outside my studio window.
Cool fact about nuthatches - They mate for life and gather nuts and seeds and jam them into tree bark, and hammer or "hatch" the food open with their bills.
These flare skirts are great paired with your fave tee for a casual day, or if you're getting ready for a festival or concert, pair with a matching sleeveless tank with a belt and it looks like a sundress. 

• Made from 88% polyester, 12% spandex performance knit fabric manufactured in Canada
• The performance fabric features EcoPoly fiber, this fiber is eco-friendly since it requires significantly less energy and water during manufacturing than conventional polyester
• Each flare skirt is printed and sewn by hand in Montreal, Canada
• Signature performance fabric is made by a local Montreal mill
• Vivid print that will never fade after washing, our ultra-stretch fabric holds shape even after multiple wearings
• Thick elastic waistband cover stitched in place, elastic will rise just under the belly button for most people
• Falls just above mid-thigh on most people
• Easy care, machine wash in cold water with a phosphate-free detergent, machine dry on medium to high heat, do not bleach
• Fabric will dry quickly so you can wear your skirt again soon