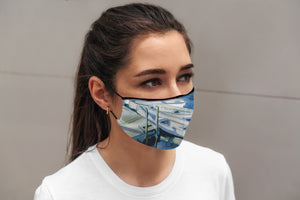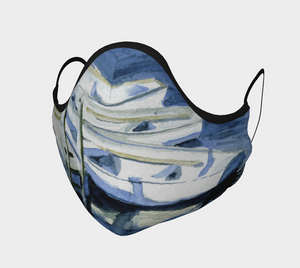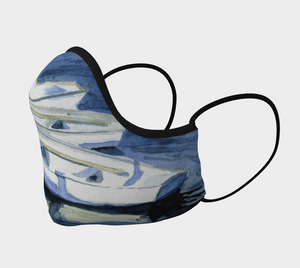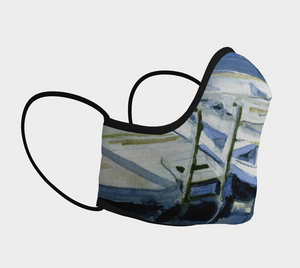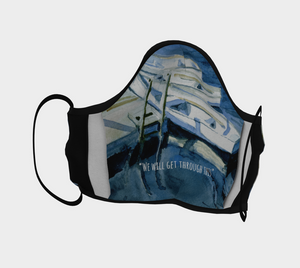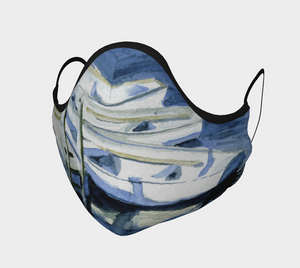 Set Sail Face Mask with Inside Filter Pocket and Nose Wire
This watercolor design by Miranda Loud is from a dock on Penobscot Bay in Maine where for countless summers, people have enjoyed rowing, sailing, birdwatching, laughing, writing poems, dancing to steel drums, lobstering, singing around the fire on the shore.


• Made from soft microtwill
• Available in 2 youth and 3 adult sizes to suit a variety of face shapes
• Internal pocket to accommodate a filter of your choice (or a dab of essential oil)
• Stainless steel adjustable nose piece and soft fabric ear elastics
• Printed with permanent reactive inks that won't washout or fade away

Please make sure to measure yourself (see chart below in cm) to get the accurate sizing. 
About the filters:
PM2.5 filters filter out particles that are as small as 2.5 microns. Virus particles are even smaller than 2.5 microns. However by including a filter in your mask, whether it is a PM2.5 filter or another filter, you are adding extra layers of protection to your cloth face covering. Each of the PM2.5 filters are made of 5 layers of cloth, including two layers of meltblown cloth and one layer of activated carbon cloth to provide excellent filtration. Typically used to prevent the inhalation of air pollution particulates, PM2.5 can help increase effectiveness of non-medical face coverings.
• PM2.5 filters are not equivalent to N95 masks. N95 masks capture 95% of airborne particles larger than 0.3 microns. PM2.5 filters capture particles matter larger than 2.5 microns.

• PM2.5 filters can be used continuously for 16-24 hours, or for 1-2 weeks when used occasionally.

• Sold in packages of 2.
How to measure:
| Size | Ear-to-ear over nose |
| --- | --- |
| Adult X-Large | 30.5 cm |
| Adult Large | 29 cm |
| Adult Medium | 27.5 cm |
| Adult Small | 26 cm |
| Youth Large | 25 cm |
| Youth Medium | 23.5 cm |
| Youth Small | 22 cm |