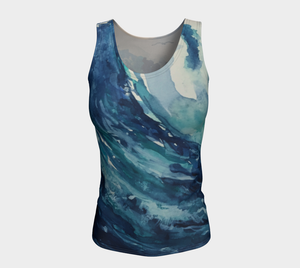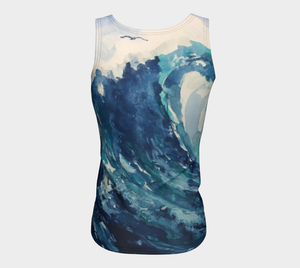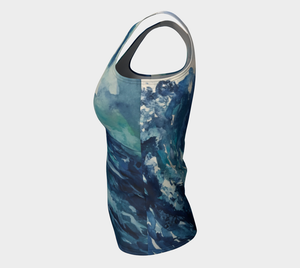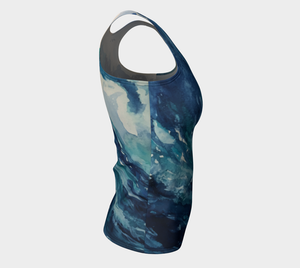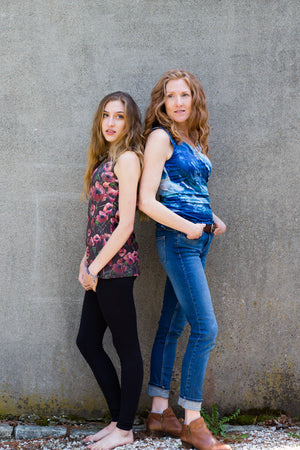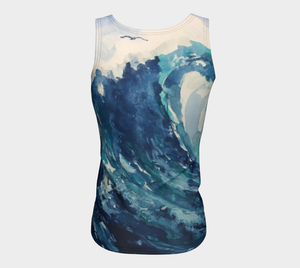 Ocean Wave Fitted Tank (Long)
We are made of 60% water, the ocean covers about 70% of our planet's surface and about 96.5 % of all the Earth's water is in the oceans.
Inspired by the blues and greens reflected in the waves and awed by the power of the ocean, I painted this cresting wave with birds overhead. They are only silhouettes but I like to think of them as albatrosses, an endangered bird that can coast for several hundred miles without flapping their wings once—a remarkable feat that no other flying creature is capable of matching. 
Both fitted and loose tops are multipurpose and can be worn as casual daywear, for yoga or the gym, or dressed up for the evening. 
Leggings, capris, bags, scarves and pillows are also available in this design which you can find on our catalog at the top of the page.
The peachskin jersey is wonderfully soft and smooth and is 92% polyester and 8% spandex.  The tank tops come in two lengths, regular (21.5″ – 22.5″) & longer (24″ – 25″) fit.
Our tank tops use a special printing process that won't fade, and are sustainably handmade in Canada with no sweatshops. The inks used to print our fabrics are water-based inks, which are non toxic and therefore reduce environmental waste. The performance fabric features EcoPoly fiber, which is eco-friendly since it requires significantly less energy and water during manufacturing than conventional polyester.